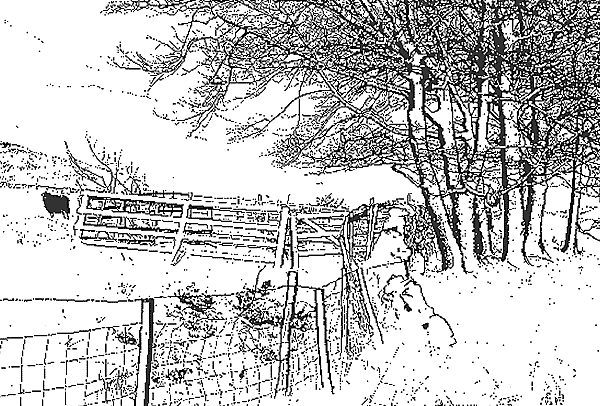 EXHIBITION: Images of the Peak District in Winter have been made by using Photoshop on an AppleMac computer.
The landscape has been reduced to pixel squares of pure black and white. Landscape nourishes our sense of rootedness with the earth. In our computer-driven world there is less chance of us realising our complete dependence on it. Only at week-ends and holidays can we have some sort of relationship with the landscape, and this is mainly for recreational purposes. Humankind`s mastery of the landscape over the centuries, as can be seen depicted in art, has changed our awareness of what landscape means to us today.
The health of the landscape is maintained by a proper ecological balance between taking from and putting back. In the 21st century, however, this two-way system is complicated by the global market. If market conditions go against an area, economic disaster can result. This has happened in the Peak District, where falling livestock prices, due to lack of demand and over-production, has forced many Derbyshire farmers to diversify into the tourist industry or go out of business.
In the future, computers could be put to good use in aiding the creation of environmentally-friendly `green` technology, or they could be used to push further the devouring consumer society we live in, which bears a new threat to the landscape, and ourselves with it.
My images of the Peak District look almost desert-like: the changing light and weather is virtually all there is to see. Is this all that is left for the future of the landscape?